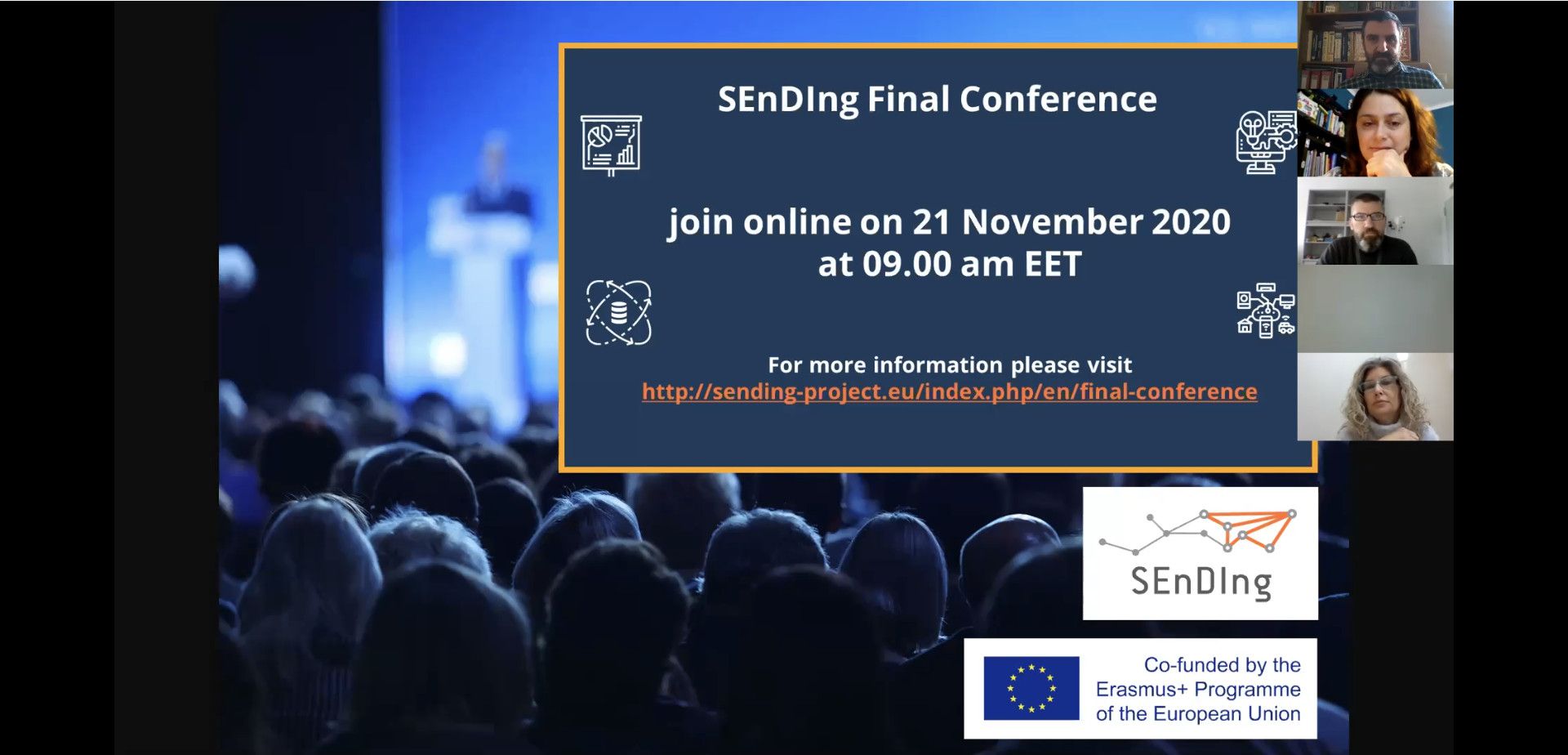 The Final Conference of the SEnDIng project took place online on Saturday 21 November 2020, at 09.00 am EET.
Session 1 – Keynotes: Prof. Cleo Sgouropoulou (Standardization Expert, Hellenic Organization for Standardization) discussed the Competence Frameworks and Standards for IT Professional Development. Dr. Luis Fernández-Sanz (CEPIS Board member) gave a talk about CEPIS and the IT Professionalism on Data Science and IoT. Mr. Dobroslav Dimitrov (Member of the Management Board of the Bulgarian Employers Association "Innovation Technologies" and Chairman of the Bulgarian Association of Software Companies) talked about the jobs of tomorrow and the needed employees' skills. Mr. Sebastiano-Toffaletti (Secretary General of The European DIGITAL SME Alliance) presented the European DIGITAL SME Alliance and the importance of IoT skills and data for SMEs.
Session 2 – The SenDIng project: Dr. Maria Rigou (University of Patras) presented the SEnDIng project and its results. Mr. Pavel Varbanov and Mr. Ivaylo Gueorguiev (European Software Institute – Center Eastern Europe) explained the design of the Internet of Things and the Data Science outcome-based curricula produced by the SEnDIng project.
Session 3 – Eramsus+ projects for skills development at Data Science and Internet of Things: Mr. Riccardo Paci (Loccioni), presented the Da.Re. project experience on bridging education and business needs. Prof. Giorgio Saio (Geographical Information Systems International Group), talked about the EO4GEO project and the innovative strategy for skills development and capacity building in the space geo-information sector supporting Copernicus User Uptake.
Session 4 - Special Session Education and training on Data Science and IoT @ the 24th Pan-Hellenic Conference on Informatics (PCI 2020)
Final Conference presentations can be found at http://sending-project.eu/index.php/en/final-conference